Wheeeeeee!!!! GIVEAWAYS!!!!!!!!!!!

Earn a chance to WIN a CUSTOM oil blend made just for you with any purchase of $10 or more, now through the end of the year. Minimum of one winner, potential for more winners. Number of winners determined by number of sales between November 30th, 2015 and December 31st, 2015. One winner for every 10 sales so share with your friends!!!

Holiday gift sets, small and large!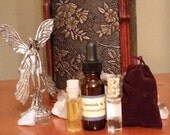 This entry was originally posted at http://pj.dreamwidth.org/458823.html. Please comment here or there there using your LJ ID or OpenID.